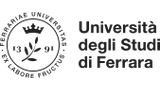 | | |
| --- | --- |
| Study location | Italy, Ferrara |
| Type | Bachelor, full-time |
| Nominal duration | 3 years (180 ECTS) |
| Study language | Italian |
| Course code | 1022 |
Tuition fee

ENG
The annual fee in Ferrara ranges from € 156,00 to € 1.914,00 for the first year (€ 2.514,00 from the second year). Tuition fees are calculated on your family income and on credits obtained.
Read more…

ITA
La quota annuale di contribuzione a Ferrara è compresa tra € 156,00 e € 1.914,00 per il primo anno di corso (€ 2.514,00 dal secondo anno). Le rate sono calcolate in base al reddito familiare e ai crediti ottenuti.
Maggiori informazioni…
Entry qualification

High school / secondary education (or higher)

ENG


High-school diploma awarded after at least 12 years of documented education.
Declaration of Value, if available. Compulsory for non-EU applicants living abroad.
Read more….



ITA


Diploma di scuola superiore ottenuto dopo almeno 12 anni documentati di scuola.
Dichiarazione di valore. Obbligatoria per studenti extra UE residenti all'estero.
Maggiori informazioni….



The entry qualification documents are accepted in the following languages: Italian.

I documenti di studio sono accettati nelle seguenti lingue: italiano

ENG
It will be required to upload:

the original final title obtained after 12 years of school;
the legalized translation of the title;
if available, full career transcript and legalized translation;
Declaration of Value, if available. Compulsory for non-EU applicants living abroad.

ITA
I documenti di studio sono accettati in lingua italiana.
Dovranno essere allegati:

il titolo finale in originale degli studi secondari conseguito con almeno 12 anni di scolarità;
la traduzione legalizzata del titolo di studio;
se disponibili, i transcript originali dell'intera carriera scolastica e la traduzione legalizzata;
Dichiarazione di valore. Obbligatoria per studenti extra UE residenti all'estero.
Language requirements

Italian


ENG
Non-EU students living abroad who would like to enroll in a study course completely taught in Italian, have to prove their knowledge of the language through an Italian language test.
The following are excluded from this obligation:


students in possession of an Italian language certification of level B2 or higher (such as

CILS

,

CELI

,

CERT

.IT – Roma3,

CEDILS

or

PLIDA

);
as an alternative, it is also possible to take an online Italian language test, organized by our University in collaboration with

CISIA

.
Read more….
students who attended to an Italian school abroad.
Read more….



ITA
Gli studenti non comunitari residenti all'estero che vogliono immatricolarsi ad un corso di studi interamente insegnato in italiano devono sostenere la Prova di Lingua Italiana.
Da tale obbligo sono esclusi:


gli studenti che hanno una certificazione internazionale di italiano almeno di livello B2 (

CILS

,

CELI

,

CERT

.IT – Roma3,

CEDILS

o

PLIDA

);
in alternativa, è possibile sostenere una prova online di lingua italiana, organizzata dalla nostra università in collaborazione con

CISIA

.
Maggiori informazioni….
gli studenti che hanno frequentato una scuola italiana all'estero.
Maggiori informazioni….


Other requirements

Specific requirements for Non-EU applicants:


ENG
Non-EU applicants living abroad, MUST apply for study Visa on Universitaly
Read more…

ITA
Studenti extra-UE che risiedono all'estero, DEVONO fare domanda di visto per studio su Universitaly
Maggiori informazioni…
Overview
Panoramica
Il Corso di laurea fornisce conoscenze e strumenti utili a comprendere i principali fenomeni socio-economici contemporanei. Il percorso formativo è strutturato in modo da garantirti una solida conoscenza delle discipline economiche e aziendali, nonché degli appropriati metodi quantitativi e dei profili giuridici e istituzionali rilevanti.
La strutturazione del Corso prevede un biennio comune, in cui vengono impartite nozioni di base, e un terzo anno in cui potrai scegliere, in base ai tuoi interessi, tra due percorsi che si caratterizzano
per una differente enfasi su tematiche di ambito economico o di ambito aziendale.
Vien offerta la possibilità di sviluppare esperienze di tirocinio in aziende e istituzioni dove si potrà iniziare a mettere in pratica ciò che si è studiato. Si potrà sviluppare parte del percorso formativo all'estero.
Programme structure
Struttura del programma
Percorso didattico ed ulteriori informazioni, sono consultabili al seguente link
Career opportunities
Sbocchi professionali
L'ampiezza delle tematiche trattate nel Corso di studio consente di acquisire la preparazione necessaria a ricoprire numerosi ruoli professionali offrendo buone opportunità occupazionali nel mercato del lavoro nazionale e internazionale e aprendo la possibilità di intraprendere percorsi lavorativi in una pluralità di contesti tra cui imprese, banche e istituzioni finanziarie, amministrazioni pubbliche, enti di ricerca e istituzioni internazionali. Diversi gli ambiti di impiego: contabilità e finanza, gestione e controllo, organizzazione del lavoro, gestione delle risorse umane, marketing. Potrai decidere altresì di intraprendere la strada della libera professione o di lavorare come consulente a supporto della Pubblica Amministrazione.
La possibilità di "personalizzare" il tuo percorso di studi, data la vasta gamma di corsi a scelta libera offerti, ti permetterà di "specializzarti" nell'ambito di tuo interesse e l'ampia offerta di tirocini e stage ti consentirà di mettere alla prova le competenze acquisite già nel corso degli studi.
Non dimenticare infine che il nostro Dipartimento offre quattro indirizzi di Laurea magistrale.