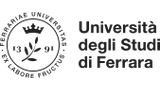 | | |
| --- | --- |
| Study location | Italy, Ferrara |
| Type | Master, full-time |
| Nominal duration | 2 years (120 ECTS) |
| Study language | English |
| Course code | 1145 |
Tuition fee

ENG
The annual fee in Ferrara ranges from € 156,00 to € 1.914,00 for the first year (€ 2.514,00 from the second year). Tuition fees are calculated on your family income and on credits obtained.
Read more…

ITA
La quota annuale di contribuzione a Ferrara è compresa tra € 156,00 e € 1.914,00 per il primo anno di corso (€ 2.514,00 dal secondo anno). Le rate sono calcolate in base al reddito familiare e ai crediti ottenuti.
Maggiori informazioni…
Entry qualification

Undergraduate diploma (or higher)

ENG
For the application to Master Degrees, please refer to this link and to the specific entry requirements

ITA
Per i corsi di Laurea Magistrale, fare riferimenti al seguente link e agli specifici requisiti curriculari

ENG


Bachelor degree diploma.
Transcript of records.
Program courses (syllabus).
Specific curricular requirements
Declaration of Value, if available. Compulsory for non-EU applicants living abroad.
Read more….



ITA


Diploma di laurea.
Certificato dei voti.
Programma dei corsi (syllabus).
Specifici requisiti curriculari.
Dichiarazione di valore. Obbligatoria per studenti extra UE residenti all'estero.
Maggiori informazioni….



The entry qualification documents are accepted in the following languages: Italian.

I documenti di studio sono accettati nelle seguenti lingue: italiano

ENG
It will be required to upload:

the original Bachelor degree diploma;
the legalized translation of the title;
full career transcript and legalized translation;
program courses (syllabus) either in Italian or in English;
Declaration of Value, if available. Compulsory for non-EU applicants living abroad.

ITA
I documenti di studio sono accettati in lingua italiana.
Dovranno essere allegati:

il diploma di laurea in originale;
la traduzione legalizzata del titolo di studio;
i transcript originali dell'intera carriera scolastica e la traduzione legalizzata;
il programma dei corsi (syllabus) o in lingua italiana o in lingua inglese.
Dichiarazione di valore. Obbligatoria per studenti extra UE residenti all'estero.
Language requirements

English


ENG
Candidates are required to possess both written and spoken English language knowledge to understand physics textbooks in English and lectures in English. Minimum level of knowledge required for access: B2.

ITA
I candidati devono possedere conoscenza della lingua inglese sia scritta che parlata, che assicuri adeguata comprensione delle lezioni frontali e di testi scritti in lingua inglese, nonchè la stesura di articoli scientifici. Livello minimo richiesto di conoscenza per l'accesso: B2.
Other requirements

Specific requirements for Non-EU applicants:


ENG
Non-EU applicants living abroad, MUST apply for study Visa on Universitaly
Read more…

ITA
Studenti extra-UE che risiedono all'estero, DEVONO fare domanda di visto per studio su Universitaly
Maggiori informazioni…
Overview
Overview
For those who want to continue their studies, the Master's Degree in Physics is the natural continuation of the Bachelor's Degree in Physics. The aim of the Master's degree is to provide a solid expertise in classical and modern physics, with particular emphasis on measurements and analysis performed with modern technologies. Graduates will be able to perform research activities, including the design of scientific tools and the development of models and procedures to analyze complex structures.
Programme structure
Programme structure
Description of the program and further information, can be consulted at the following link
Career opportunities
Career opportunities
The Master's degree aims at completing the Physicist profile, in view of different employment opportunities: for R&D career in private firms, the Degree favors the development of a high level technical profile, that is able to handle both modern and innovative technologies and complex systems, to model and design systems and processes; for the research activity, the graduates have a deep and advanced knowledge in theoretical and experimental physics, and with the degree thesis make a first research work experience, in view of the participation in the PhD program; finally, the Degree course paves the way for both teaching in high schools and lecturing at the University.