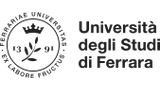 | | |
| --- | --- |
| Study location | Italy, Ferrara |
| Type | Master, full-time |
| Nominal duration | 2 years (120 ECTS) |
| Study language | Italian |
| Course code | 1227 |
Tuition fee

ENG
The annual fee in Ferrara ranges from € 156,00 to € 1.914,00 for the first year (€ 2.514,00 from the second year). Tuition fees are calculated on your family income and on credits obtained.
Read more…

ITA
La quota annuale di contribuzione a Ferrara è compresa tra € 156,00 e € 1.914,00 per il primo anno di corso (€ 2.514,00 dal secondo anno). Le rate sono calcolate in base al reddito familiare e ai crediti ottenuti.
Maggiori informazioni…
Entry qualification

Undergraduate diploma (or higher)

ENG
For the application to Master Degrees, please refer to this link and to the specific entry requirements

ITA
Per i corsi di Laurea Magistrale, fare riferimenti al seguente link e agli specifici requisiti curriculari

ENG


Bachelor degree diploma.
Transcript of records.
Program courses (syllabus).
Specific curricular requirements
Declaration of Value, if available. Compulsory for non-EU applicants living abroad.
Read more….



ITA


Diploma di laurea.
Certificato dei voti.
Programma dei corsi (syllabus).
Specifici requisiti curriculari.
Dichiarazione di valore. Obbligatoria per studenti extra UE residenti all'estero.
Maggiori informazioni….



The entry qualification documents are accepted in the following languages: Italian.

I documenti di studio sono accettati nelle seguenti lingue: italiano

ENG
It will be required to upload:

the original Bachelor degree diploma;
the legalized translation of the title;
full career transcript and legalized translation;
program courses (syllabus) either in Italian or in English;
Declaration of Value, if available. Compulsory for non-EU applicants living abroad.

ITA
I documenti di studio sono accettati in lingua italiana.
Dovranno essere allegati:

il diploma di laurea in originale;
la traduzione legalizzata del titolo di studio;
i transcript originali dell'intera carriera scolastica e la traduzione legalizzata;
il programma dei corsi (syllabus) o in lingua italiana o in lingua inglese.
Dichiarazione di valore. Obbligatoria per studenti extra UE residenti all'estero.
Language requirements

Italian


ENG
Non-EU students living abroad who would like to enroll in a study course completely taught in Italian, have to prove their knowledge of the language through an Italian language test.
The following are excluded from this obligation:


students in possession of an Italian language certification of level B2 or higher (such as

CILS

,

CELI

,

CERT

.IT – Roma3,

CEDILS

or

PLIDA

);
as an alternative, it is also possible to take an online Italian language test, organized by our University in collaboration with

CISIA

.
* Read more….*
students who attended to an Italian school abroad.
Read more….



ITA
Gli studenti non comunitari residenti all'estero che vogliono immatricolarsi ad un corso di studi interamente insegnato in italiano devono sostenere la Prova di Lingua Italiana.
Da tale obbligo sono esclusi:


gli studenti che hanno una certificazione internazionale di italiano almeno di livello B2 (

CILS

,

CELI

,

CERT

.IT – Roma3,

CEDILS

o

PLIDA

);
in alternativa, è possibile sostenere una prova online di lingua italiana, organizzata dalla nostra università in collaborazione con

CISIA

.
Maggiori informazioni….
gli studenti che hanno frequentato una scuola italiana all'estero.
Maggiori informazioni….


Other requirements

Specific requirements for Non-EU applicants:


ENG
Non-EU applicants living abroad, MUST apply for study Visa on Universitaly
Read more…

ITA
Studenti extra-UE che risiedono all'estero, DEVONO fare domanda di visto per studio su Universitaly
Maggiori informazioni…
Overview
Panoramica
Il Corso è ad accesso libero: non è previsto un test di ammissione ma la verifica del possesso dei requisiti curriculari e di adeguatezza della preparazione.
Il percorso formativo della Laurea magistrale in Ingegneria civile è articolato su 2 indirizzi. Il primo "Costruzioni" è fortemente incentrato sulle materie riguardanti le costruzioni, con particolare attenzione alla componente sismica, la geotecnica, la cantieristica e l'edilizia, senza trascurare gli aspetti di impatto ambientale delle opere e la progettazione territoriale. Il secondo "Ambientale" si concentra invece su materie quali l'idraulica e le costruzioni idrauliche, le infrastrutture viarie e le opere in terra, approfondendo gli aspetti legati alla bonifica dei siti inquinati, il trattamento dei rifiuti solidi, lo sfruttamento di fonti energetiche rinnovabili, il trattamento e il monitoraggio delle acque reflue.
Programme structure
Struttura del programma
Percorso didattico ed ulteriori informazioni, sono consultabili al seguente link
Career opportunities
Sbocchi professionali
Il Corso di studi forma un ingegnere civile con basi solide su materie che riguardano le costruzioni, l'idraulica e la geotecnica e al contempo tocca argomenti fortemente professionalizzanti, relativi a tematiche di forte riscontro nel mondo del lavoro. Il percorso formativo è completato dalle attività di tirocinio e tesi, che possono essere svolte presso enti, aziende o professionisti con cui il Dipartimento collabora che permettono di applicare le competenze maturate durante gli studi e di costruire un curriculum spendibile dopo la laurea.
Le possibilità professionali principali sono costituite dagli enti di diritto pubblico (Regioni, Comuni, Consorzi di Bonifica), multiutility, aziende private (imprese di costruzioni edili/stradali/idrauliche), studi professionali di progettazione, in ruoli e con compiti che possono essere molteplici: progettazione, calcolo strutturale/impiantistico/idraulico, organizzazione del cantiere al rilievo fotogrammetrico, ottimizzazione energetica degli edifici e/o degli impianti.