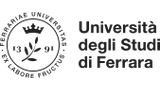 Formazione, Comunicazione e Cittadinanza Digitale
| | |
| --- | --- |
| Study location | Italy, Ferrara |
| Type | Master, full-time |
| Nominal duration | 2 years (120 ECTS) |
| Study language | Italian |
| Course code | 3161 |
Tuition fee

ENG
The annual fee in Ferrara ranges from € 156,00 to € 1.914,00 for the first year (€ 2.514,00 from the second year). Tuition fees are calculated on your family income and on credits obtained.
Read more…

ITA
La quota annuale di contribuzione a Ferrara è compresa tra € 156,00 e € 1.914,00 per il primo anno di corso (€ 2.514,00 dal secondo anno). Le rate sono calcolate in base al reddito familiare e ai crediti ottenuti.
Maggiori informazioni…
Entry qualification

Undergraduate diploma (or higher)

ENG
For the application to Master Degrees, please refer to this link and to the specific entry requirements

ITA
Per i corsi di Laurea Magistrale, fare riferimenti al seguente link e agli specifici requisiti curriculari

ENG


Bachelor degree diploma.
Transcript of records.
Program courses (syllabus).
Specific curricular requirements
Declaration of Value, if available. Compulsory for non-EU applicants living abroad.
Read more….



ITA


Diploma di laurea.
Certificato dei voti.
Programma dei corsi (syllabus).
Specifici requisiti curriculari.
Dichiarazione di valore. Obbligatoria per studenti extra UE residenti all'estero.
Maggiori informazioni….



The entry qualification documents are accepted in the following languages: Italian.

I documenti di studio sono accettati nelle seguenti lingue: italiano

ENG
It will be required to upload:

the original Bachelor degree diploma;
the legalized translation of the title;
full career transcript and legalized translation;
program courses (syllabus) either in Italian or in English;
Declaration of Value, if available. Compulsory for non-EU applicants living abroad.

ITA
I documenti di studio sono accettati in lingua italiana.
Dovranno essere allegati:

il diploma di laurea in originale;
la traduzione legalizzata del titolo di studio;
i transcript originali dell'intera carriera scolastica e la traduzione legalizzata;
il programma dei corsi (syllabus) o in lingua italiana o in lingua inglese.
Dichiarazione di valore. *Obbligatoria per studenti extra UE residenti all'estero
Language requirements

Italian


ENG
Non-EU students living abroad who would like to enroll in a study course completely taught in Italian, have to prove their knowledge of the language through an Italian language test.
The following are excluded from this obligation:


students in possession of an Italian language certification of level B2 or higher (such as

CILS

,

CELI

,

CERT

.IT – Roma3,

CEDILS

or

PLIDA

);
as an alternative, it is also possible to take an online Italian language test, organized by our University in collaboration with

CISIA

.
* Read more….*
students who attended to an Italian school abroad.
Read more….



ITA
Gli studenti non comunitari residenti all'estero che vogliono immatricolarsi ad un corso di studi interamente insegnato in italiano devono sostenere la Prova di Lingua Italiana.
Da tale obbligo sono esclusi:


gli studenti che hanno una certificazione internazionale di italiano almeno di livello B2 (

CILS

,

CELI

,

CERT

.IT – Roma3,

CEDILS

o

PLIDA

);
in alternativa, è possibile sostenere una prova online di lingua italiana, organizzata dalla nostra università in collaborazione con

CISIA

.
Maggiori informazioni….
gli studenti che hanno frequentato una scuola italiana all'estero.
Maggiori informazioni….


Other requirements

Specific requirements for Non-EU applicants:


ENG
Non-EU applicants living abroad, MUST apply for study Visa on Universitaly
Read more…

ITA
Studenti extra-UE che risiedono all'estero, DEVONO fare domanda di visto per studio su Universitaly
Maggiori informazioni…
Overview
Panoramica
Questo Corso magistrale forma una figura altamente specializzata nella progettazione, gestione e valutazione di interventi educativi, formativi e comunicativi tramite l'uso delle tecnologie dell'informazione e della comunicazione (TIC), compreso l'e-learning, in contesti socio-educativi e culturali, pubblici e privati, anche volti all'inclusione sociale e multiculturale. Il corso coniuga le esigenze di caratterizzare figure professionali dell'area delle scienze dell'educazione e dell'area delle scienze della comunicazione, individuando nell'expertise alla gestione dei new media e nella formazione alla cittadinanza digitale le core competences del percorso formativo.
Il laureato magistrale in Formazione, comunicazione e cittadinanza digitale:

avrà una solida formazione interdisciplinare in ambito umanistico che lo metterà in grado di conoscere a fondo i processi inerenti l'impiego di molteplici risorse comunicative e tecnologiche nella relazione educativa, nella pratica didattica e nella comunicazione tecnologica;
sarà in grado di progettare, realizzare, valutare percorsi educativo-formativi che abbiano nell'uso delle

TIC

il loro focus, in ambiti istituzionali, aziendali, associativi;
sarà in grado di interpretare i fenomeni legati alle emergenze educative, sociali e comportamentali dovute all'uso degli strumenti tecnologici e saprà intervenire per contrastarle;
utilizzerà in maniera integrata i linguaggi analogici e digitali tanto per accedere in maniera critica ai messaggi/testi veicolati dai media, quanto per costruirne di nuovi, collaborare e condividere informazioni, consumare e produrre contenuti digitali;
saprà comprendere la natura linguistica, operativa, tecnologica dei media, sviluppando un pensiero critico e interpretativo delle diverse realtà simboliche costruite dai mezzi di comunicazione;
avrà appreso almeno una lingua dell'Unione Europea, oltre all'italiano.


Programme structure
Struttura del programma
Percorso didattico ed ulteriori informazioni, sono consultabili al seguente link
Career opportunities
Sbocchi professionali
I laureati magistrali in Formazione, comunicazione e cittadinanza digitale potranno inserirsi nel mondo del lavoro avendo acquisito competenze interdisciplinari e adeguate al mondo di oggi. In particolare, l'esperto della formazione e animazione digitale coordina, progetta e organizza interventi con l'uso delle nuove tecnologie in contesti formativi pubblici e privati: può essere un insegnante delle istituzioni scolastiche in possesso di competenze interdisciplinari nell'educazione ai media e alla cittadinanza digitale, un pedagogista esperto nella progettazione e nell'intervento educativo con i new media che opera nei servizi e nei presidi socioeducativi e socioassistenziali, un formatore dei formatori sui temi della media education. Dal canto suo, l'esperto della comunicazione digitale opera con funzioni manageriali e organizzative in aziende di comunicazione e marketing, uffici stampa e comunicazione di enti pubblici e privati, uffici delle relazioni pubbliche di enti pubblici e aziende private, enti e aziende per la formazione professionale. Questa figura progetta, coordina, realizza e valuta prodotti e servizi di comunicazione attraverso l'utilizzo delle nuove tecnologie dell'informazione e della comunicazione.